DIGITAL SCALES PORTION CONTROL, 2 IN 1 DOG BOWL/SLOW FEEDER BOWL
DIGITAL SCALES PORTION CONTROL, 2 IN 1 DOG BOWL/SLOW FEEDER BOWL - Be Well with Maeve
roll over the image to zoom in
---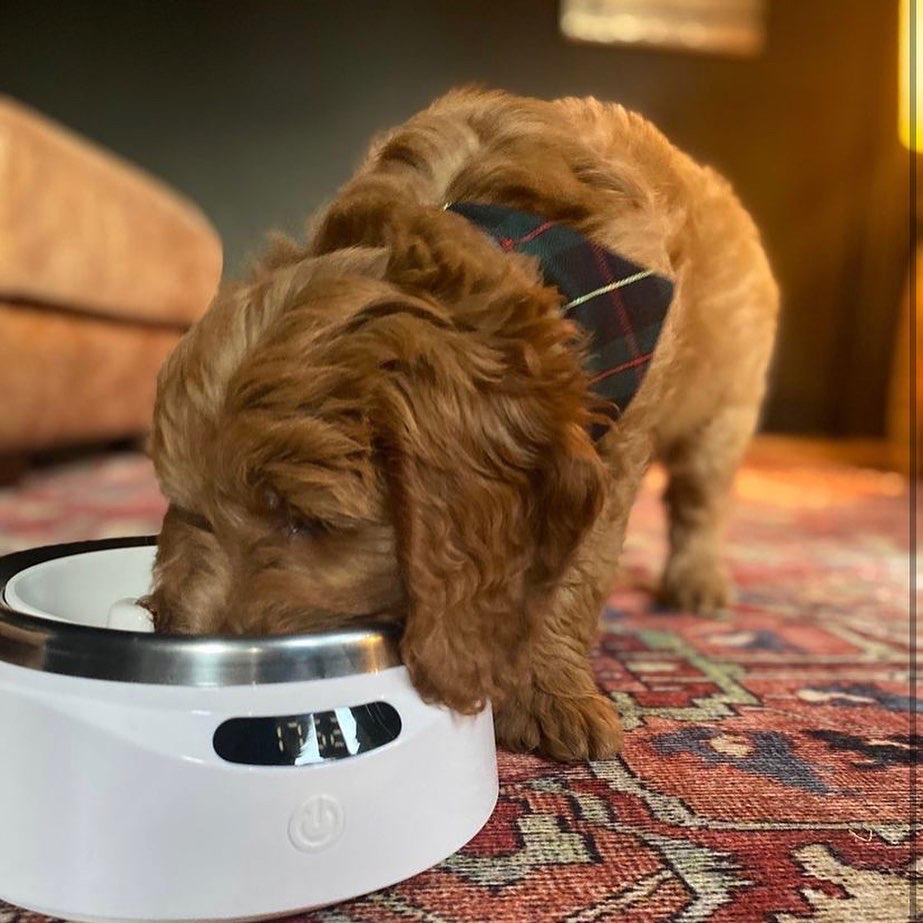 Send this to a friend
DIGITAL SCALES PORTION CONTROL, 2 IN 1 DOG BOWL/SLOW FEEDER BOWL
Product details

When it comes to Dog's health, just like us, portion control and consistency is vital!
Our digital scales built into the dog bowl make it so easy. Simply switch on and pour whatever food they're having into the stainless steel feeding bowl. For extra health support there is an additional melamine slow feeder/anti gulp bowl which are proven to slow down wasting as well! 
Both bowls are easy to remove for cleaning and dishwasher safe as well!
So it's definitely a winner with all the benefits and so easy to use (but instructions are included as well!)

Size: 8cm High x 20cm Diameter 
Batteries Required 3 x1.5v/AA (not included)  
INSTRUCTIONS:

BATTERIES: 
Detach battery cover and Install 3 x AA batteries. Do not mix new and old batteries. Remove batteries if stored and unused for extended period. 
TO USE: 
POWER ON: Press and hold the start button for 3 seconds
SHUTDOWN: Press and hold the start button for 3 seconds 
UNIT SWITCH: Short press of the start button when on to switch between Grams/Oz.
STANDBY MODE: The bowl will switch to standby mode if there has been no active use for 10 seconds. Short press the start button to wake up again.
WEIGHING: Put the bowl on a flat surface. Ensure the bowl is not tilted and it is empty. Place contents in the bowl and after a 2 seconds the weight will show on the screen! 
CARE:
Stainless steel and melamine slow feed insert can both be removed for easy cleaning.
White base can be cleaned with damp cloth. Please shut bowl down before wiping.
Ensure bowl is empty before use. 
Waste: Electrical products should not be disposed of with household waste. Separate disposal facilities are available, visit www.recycle-more.co.uk to find your local facility. 
MESSAGE FROM OUR BE WELL AMBASSADOR, MAEVE
Hi, my name is Maeve and I'm so excited to be working in partnership with Friends of Toby. I'm a chartered human physiotherapist who specialises in animal physiotherapy. In addition to working with humans and animals, I am currently completing my masters research project on treatments of dogs and hydrotherapy. 
I've owned dogs all my life and am a huge advocate of affordable, good quality products that keep your dog happy, healthy and improve their quality of life.
I love to keep myself and my dogs fit, happy and healthy and I can't wait to talk to you about some products from the Friends of Toby range I've handpicked and hope you'll love them as much as we do.
We hope your dog loves this product as much as we do! If you have any questions, follow the 'Contact us' links on the website or email customersupport@smithreddieuk.co.uk. 
Follow us on Instagram: @friends_of_toby. Like us on Facebook: Friends of Toby.