roll over the image to zoom in
---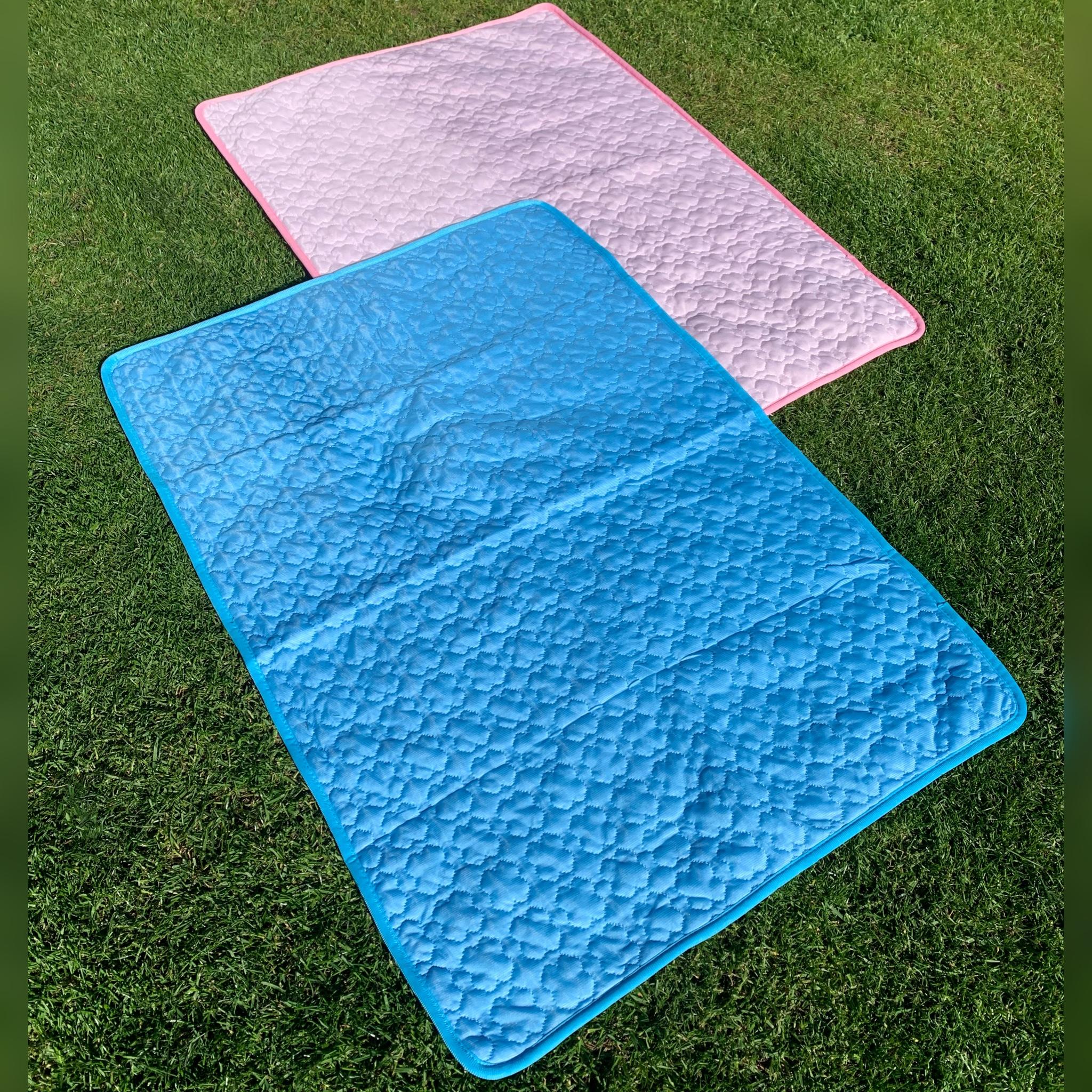 Send this to a friend
Cooling Mat
Product details


Keep your dogs cool this summer with our self-cooling dog mats! Made from an innovative cooling material, this mat absorbs your pup's body warmth to prevent overheating and offer relief from the summer heat. 
With no water or refrigeration required, these lightweight self-cooling mats are the must-have accessory for weekend camping trips, relaxing days in the garden or a hot summer's evening. Available in two summery pastel colours here at Friends of Toby. 
We hope your dog loves this product as much as we do! If you have any questions, visit the 'Contact us' page on our website or email customersupport@smithreddieuk.co.uk. 
Follow us on Instagram: @friends_of_toby. Like us on Facebook: Friends of Toby.
PRODUCT SPECIFICATION

| | | |
| --- | --- | --- |
| Size | Material | Care Instructions |
| 96cm x 67cm | Suitable for larger dogs | 75% Nylon | 25% Polyester  | Machine wash at 30c | Iron on the reverse |

FAQS

How does a cooling mat work?

Cooling mats employ a unique self-cooling technology that absorbs your pet's body heat when they lie down. This helps to regulate your pet's body temperature, and offer comfort on hot summer days. As they don't require any water or refrigeration to work, they are a popular choice for weekend camping trips, or days out in the sun. 

What are the benefits of cooling mats?

Cooling mats have a number of benefits:

Prevent Overheating: Dogs, like humans, can suffer if they get too hot in the sun. As the name suggests, the main reason pet owners buy cooling mats is to prevent their pets from suffering from excessive heat, and keep them comfortable on hot days. 
Alleviate Joint Pain: Cooling mats are a popular choice for pet owners with senior dogs, due to their ability to relieve muscle and joint pain (particularly if your dog suffers with arthritis) and offer comfort in later years. 
Offer a Good Night's Rest: Unlike traditional dog beds, which are designed to retain heat, cooling mats provide your dog with a comfortable place to have a restful sleep even during the hottest of summer nights.

WHAT OUR CUSTOMERS SAY

"My first delivery arrived today! Lovely products, fast delivery and beautifully packaged. It's nice to know when a company is so appreciative of your custom. Thank you Friends of Toby! I'll definitely be shopping with you again" - Lyndsey, 18/08/21

"First order from Friends of Toby and it won't be the last. Great quality products, and fast delivery. Looking forward to our next order!" - Nick, 15/08/21